Reception Area
You're always welcome in our spacious waiting area. Too bad you won't have long to wait because we pride ourselves on PROMPT, time-conscious care. Your children will also enjoy the fish, DVD player, and toys while in our office.



Rehabilitation Suite
Includes active and passive treatment methods including heat packs, ice packs, ultrasound, electric muscle stimulation, and Gameready cryocompression systems. We have over 1500 square feet of dedicated therapeutic exercise to treat the whole spectrum of sports injuries from rotator cuff repairs to spinal microdiskectomy and fusion. At Colorado Spine and Sport, you always see the same experienced provider. You won't experience weekly rotating therapists or recently graduated therapy assistants like larger corporate hospital based clinics.

Radiology Suite
With one of the few high-frequency xray units in the area, we provide radiology services for many other clinics in Boulder County, both taking and interpreting xray exams. We also use high-speed rare earth cassettes and filters to ensure the highest quality and lowest dosage xray examinations. Your exams may also be interpreted by Dr. Rodgers, a residency-trained skeletal radiologist, also unique to our clinic.

Exam and Treatment Rooms
Spacious and private exam and treatment rooms with tranquil colors and relaxing music and water fountains to ensure patients comfort and privacy.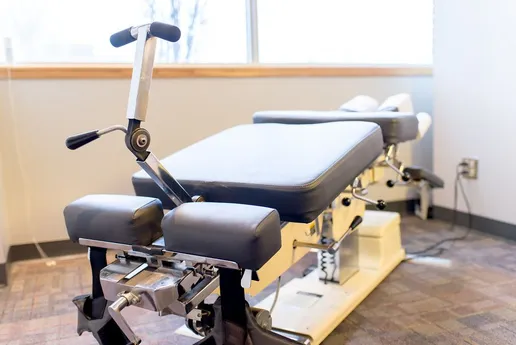 Spinal Decompression Disk Herniation Suite
We utilize Cox Flexion Distraction Tables designed to decompress disc herniation cases while flossing the sciatic nerve in moderate to mild cases of lumbar disk herniation. We also employ the Easy Trax cervical spine home traction units for cervical disk herniations. Your family doctor may not be familiar with this great treatment option for disk herniation in patients that would not respond favorably to tradition physical therapy or chiropractic care.