Chiropractic Techniques
Activator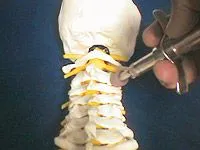 Activator technique utilizes a small spring-loaded adjusting instrument to deliver a focused corrective impulse into the dysfunctional spinal segment. This technique is most commonly used in patients who prefer a low-force correction without the traditional "hands-on" thrust. This technique is only used on cases that prefer such and is not our primary technique but effective for specific clinical situations.
Diversified
Diversified Technique is the most common technique chiropractors use to manipulate the spinal column. The technique utilizes quick impulses delivered to the "stuck" or "subluxated" spinal segment by the doctor's hands. A "side-posture" adjustment of the low back and pelvis is seen below.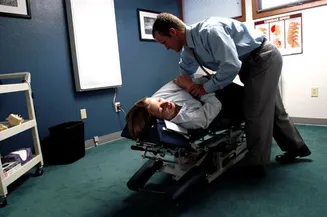 Flexion-Distraction Disk Decompression Therapy
Primary technique used to gently decompress known or suspected disk herniations, cases of sciatica, or acute low back sprains requiring a very controlled amount of force. This technique is sometimes combined with ice and electric muscle stimulation and has been shown to reduce the intraspinal pressure associated with disk herniation causing spinal canal narrowing. This therapy is a supplement to medical management of disk herniations including epidural steroid injections and microdiskectomies. We are one of the few clinics in Boulder County who are credentialed in this technique and that work directly with your neurosurgeon with this treatment option.
Thompson
Technique for Expecting Mothers
Thompson technique utilizes"drop" pieces as seen above. The patient lies on their stomach while the doctor delivers a corrective thrust to the spine or pelvis. The "drop" pieces absorb much of the force of the thrust resulting in a more comfortable adjustment for the patient. This approach is particularly appropriate for expecting pregnant mothers as the table pieces move out of the way below to allow mother and child to rest comfortably without pressure on abdomen.