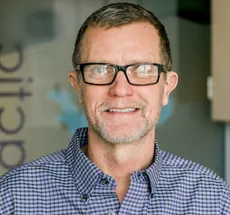 Michael Mueller, LMT, BCTMB
Mike works with a wide variety of clients, treating conditions ranging from tension headaches and neck pain, joint pain, fibromyalgia, stress as well as many other muscle related aches and pain. He utilizes a complementary set of modalities, including deep tissue massage, Thai massage, trigger point therapy, myofascial release, structural integration, and passive stretching to assist clients in relieving stress related tension, reducing chronic pain and correcting musculoskeletal dysfunction. Mike combines deeper techniques with subtler gentle techniques, that allow the body to relax and move closer to homeostasis.
Myofascial Release: Fascia is the connective tissue that wraps around the muscle cells, fascicles, and the muscles themselves. Due to the inability to separate this connective tissue from the muscle, massage focusing on the fascia is optimal for muscle health. Fascial work brings stretch and movement back to the muscle by lessening restrictions and adhesions.
Sports: Most sports massage techniques employ a muscle's own energy to create release, Muscle Energy Techniques (METs) to help reset the sensory receptor cells. Stretching for longer periods of time as well as holding a trigger point while stretching a limb are also frequently utilized in sports massage.
Orthopedic: Orthopedic techniques involve encouraging bones to move in order to create more space in the joints, which can affect muscles. Ligaments are vascularized and massage helps create space in the joints allowing bones to function with less muscular origin compression on joint surfaces.